Concert: Music & Words
September 8, 2018 Split/Croatia
Mediterranean Institute for Life Sciences - Great Hall, 6:00 pm

Program:
- Wichita Vortex Sutra with poem by Allen Ginsberg performed by Diana Krzanic Tepavac
- Dreaming Awake
- Philip Glass - Piano Etudes Nos. 2, 6, 15, 16, 17, 20
A MedILS ARTScience event in Split, Croatia
Longing for a contemporary Renaissance:
 Experimental harmonization of Music, Poetry, Film and Painting in a space of Life Science research with the scent of pines, cypresses and rosemary overlooking the Adriatic Sea and its islands.
On Saturday evening, September 8th 2018, in MedILS (Split, Croatia, www.medils.org), in a space virgin to piano music, Branka Parlić played Philip Glass' "Wichita Vortex Sutra" with gentle soul in her fingertips, overlapped with Allen Ginsberg's rebellious text spoken masterfully by Diana Krzanić Tepavac. Emotional Pandora's box was unlocked with the keys given by Glass and Ginsberg used swiftly and masterfully by Branka and Diana. Then, the recital of Glass' music went along with Dreaming Awake and Piano Etude Nos. 2, 6, 15, 16, 17, 20, accompanied by a film created with exquisite musical sensitivity, for this event, by Bruno Lovrencic.
Unprepared, the audience was caught by surprise: tears, a squeezed arm and gently uniting hands, did not go unnoticed… Some rubbed their eyes to fake irritation, few left the room to find a place to cry... So much of the unfelt and unsaid accumulates with time. A long silence preceding the applause witnessed a shaken-up audience.
Walking out of the recital into the open space of a glass-walled atrium, the friends of MedILS were facing the art work of Milan Tepavac Tarin. Several dozens of beautifully sculpted human head forms were capturing our eye sights as if in competition to make way into our own heads still inhabited by the music. So many heads "different, yet the same"!  Among the heads are the paintings and graphics of the bowls of smoking hot soups with most diverse contents – usually social and political issues cooked-up by chef Milan. There are also pieces from his opus "The Conferences": mute frozen pathetic Experts of the Useless seated around a long table treating different topics ... Milan's messages are gentle but penetrant, humorous and deranging, mostly in the form of unanswered questions. Then, there are also humanity's greatest minds dethroned in grotesque constellations. So many heads! How many heads are there? How many heads are within each head?
With so much feeling and so many messages, our hibernated emotions came to back to life.
I feel thus I am! In the open-air atrium, with a glass of wine in the hand, people got ready to open up, to speak of the surprise to find themselves somewhere else… Brotherhood and sisterhood born ad hoc through common experience, by shared emotions emerging out of a sudden togetherness while guarding a pleasant private loneliness… - Visibly, the music continued in the heads, pictures danced and we felt the waking-up of each of trillions of our cells... Thank you Branka and Diana for a nostalgic voyage through an undiscovered, yet familiar, space of love without caution - far away from where we usually live. We pay your generosity with a long warm hug.
Thank you Danica Radman for conceiving this – long-time silently cooked -  "MedILS for Split" event of the MedILS' ARTScience Programme and for bringing to MedILS your artist friends to play for us a one-time game of their emotions to arouse our feelings. Last, but not least, the hidden heroes of this event are our exhausted friends who day-and-night engineered space, light and sound for this occasion. Thank you Dragoljub, Zlatko, Marko and Prosper! A big hug goes to Jelena, Irena, Ljilja and Lora for hosting the event. This evening is dedicated to the memory of the cineaste Luka Lovrencic.
Miroslav Radman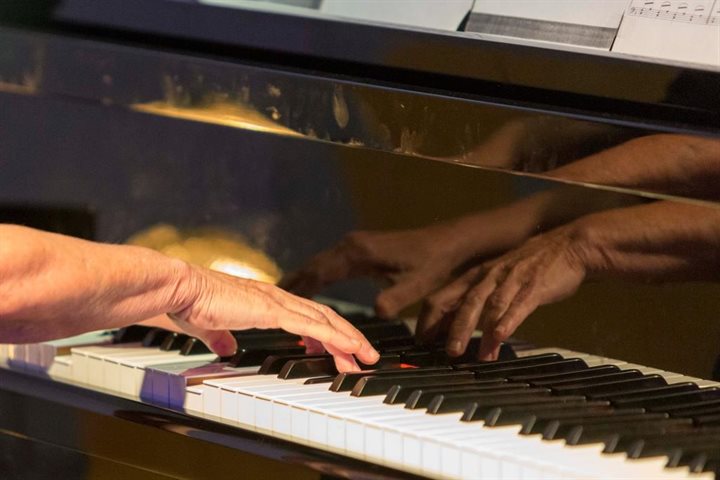 {gallery}artscience/muzika_reci{/gallery}